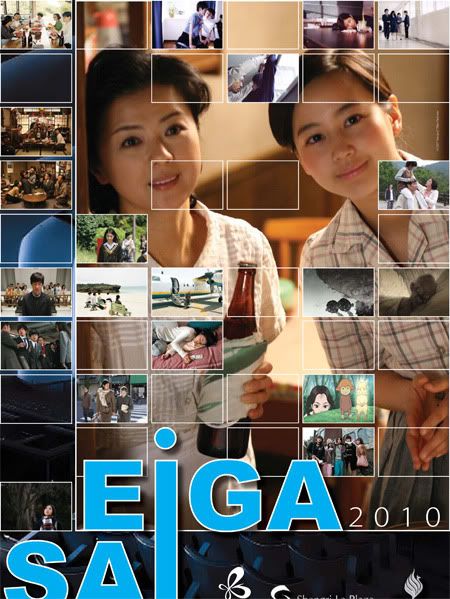 Eiga Sai (literally "film festival"), an annual Contemporary Film Showing held by Japan Foundation, Manila together with Shangri-La Plaza Mall (EDSA) and UP Film Institute (Diliman), will open this July 1st with an invitational screening of Always Sunset on Third Street 2 at Shang Cineplex 4.
The much-awaited film festival also marks the start of the month-long celebration of Philippines-Japan Friendship Month. Screenings at Shangri-La Plaza Mall will be held until July 11. Other venues for Eiga Sai are Gaisano South City Mall in Davao (July 23 – 25), Ayala Center in Cebu (August 3 – 8), and UP Film Institute in Diliman, Quezon City (August 18 – 21).
I have prepared synopses using various sources for the roster of films that will be showcased on Eiga Sai's 12th year:
Always Sunset on Third Street 2 (Always zoku San-chome no yuhi, 2007)
Directed by Yamazaki Takashi
In this sequel of manga-based Always Sunset on Third Street, Takashi brings back viewers to the nostalgic Tokyo of the 1950s and continues the story of budding writer Ryunosuke Chagawa (Hidetaka Yoshioka) and the residents of the "San-Chome" community.
The Battery – Future in Our Hands (Batterii, 2007)
Directed by Takita Yojiro
Harada Takumi (Hayashi Kento), a young but talented baseball pitcher, moves to Okayama countryside due to his younger brother's poor health. Takumi forms a "battery" duo with a catcher named Nagakura Go (Yamada Kenta), who plays for a local children's baseball team. Takumi's sickly younger brother, an ardent supporter of Takumi and Go, prevents them from dissolving the battery duo when differences between their techniques arise later in junior high school.
I Just Didn't Do It (Soredemo boku wa yatte nai, 2007)
Directed by Suo Masayuki
I Just Didn't Do It tells the story of 26-year-old Kaneko Teppei (Ryo Kase), who was wrongly accused of groping a high school girl while onboard a train on his way to a job interview. This drama reflects the labyrinthine legal system of Japan, where defendants like Teppei are forced to sign incriminating confessions and criminal cases against them carry on for years.
How to Become Myself (Ashita no watashi no tsukurikata, 2007)
Directed by Ichikawa Jun
How to Become Myself tells the story of an adolescent girl named Oshima Juri (Narumi Riko) and bouts of identity crisis stemming from her efforts to fit in her class and keep her family together.
Juri secretly looks up to Hanada Kanako (Maeda Atsuko), the most popular girl in her class. She acts out a false identity to set herself apart from ordinary girls. Even at home, Juri acts as the perfect daughter, hoping to put an end to her parents' fighting. When her status later on plummets from popular girl to classroom outcast, Kanako tells Juri in a brief conversation that her outcast image is not really her true self.
The Bandage Club (Houtai kurabu, 2007)
Directed by Tsutsumi Yukihiko
High school student Wara (Ishihara Satomi) wears a cheerful facade but conceals darknees deep in her mind. After a minor accident, Wara nearly climbs over the hospital rooftop's fence, but is stopped by a boy named Dino (Yagira Yuya), and asks her if she's going to kill herself. Dino picks up Wara's bandage that fell on the ground, ties it around the rooftop fence, and declares that he has bandaged her heart. Wara, having found this act comforting, later joins the "Bandage Club" founded by her friends to help people recover from painful situations.
Glasses (Megane, 2007)
Directed by Ogigami Naoko
Burned-out career woman Taeko (Kobayashi Satomi) decides to leave her stressful city life for an island getaway one early springtime. However, her vacation doesn't go as trouble-free as she expected. The island doesn't have a a sightseeing spot, the hotel's proprietor sits down and eats with her instead of leaving her in peace, and a mysterious woman takes the liberty of entering her room and waking her up. However, when seeking for a more peaceful hotel proves useless, Taeko has no choice but to return to her eccentric hosts and witness other peculiarities in the island.
Fourteen (Juyon-sai, 2007)
Directed by Hirosue Hiromasa
Fourteen tells about the the traumatic experiences of a female teacher and a salary man during their adolescent years. When she was 14, Fukatsu Ryo (Namiki Akie) stabbed a teacher who called her an arsonist. Sugino Koichi (Hirosue Hiromasa), Fukatsu's classmate in highschool and a talented pianist in his youth, is also burdened with psychological scars from verbal abuse when he was 14; he eventually stopped playing the piano because of it. The two are reunited when Koichi gets persuaded to give piano lessons to a colleague's son, who also happens to live in the same neighborhood as Fukatsu's student. Ryo and Sugino reached adulthood without getting over their traumatic pasts, but eventually started facing these issues and finding hope while in the company of the 14-year-olds who are presently just as troubled as they are.
TOKYO TOWER Mom & Me, and Sometimes Dad (Tokyo tawaa Okan to boku to tokidoki oton, 2007)
Directed by Matsuoka Joji
In this film based on a well-known auto-biographical novel by Lily Franky, Nakagawa Masaya (Odagiri Jo) alternates between narrating his life story through the past, and watching his mother succumb to cancer in the present.
Masaya's mother Eiko (Uchida Yayako/Kiki Kirin) left her alcoholic husband, took their son away from Tokyo, and settled in her hometown, a coal mining town in Fukuoka. While Eiko works hard to support her son, Masaya grows tired of life in the countryside and moves to Tokyo to study art. Later on, he picks up a lot of his reckless father's vices, spending his mother's money on smoking, gambling, drinking, and casual sex. When he learns about his mother falling ill with cancer, the roles are reversed; Masaya asks his mother to live with him in Tokyo so he can take care of her for the rest of her days.
There are also two anime films:
Miyori in the Sacred Forest (Miyori no mori, 2007)
Directed by Yamamoto Nizo
Rather that staying together for her sake, 11-year-old Miyori's parents decided to go through a messy divorce. After being abandoned by her parents, Miyori decides to shut her heart from the rest of the world and deny any form of human relationship. From Tokyo, Miyori moves to her grandmother's place which is near a forest. Miyori feels a strong sense of loneliness when she takes a walk in the forest which she perceives as empty. She eventually encounters unbelievable things and gradually realizes that the forest is more than what it seems.
Franz Kafka's A Country Doctor (Kafka Inaka isha, 2007)
Directed by Yamamura Koji
A Country Doctor is based on influential German writer Franz Kafka's short story of the the same name. It tells about the struggles of an unfortunate country doctor who gets an emergency call to attend to a sick young man in the middle of a winter night. With no horse to use for the journey, Rosa, the doctor's maid, runs off to see if anyone can lend them one. A series of surreal events takes place shortly after Rosa returns empty-handed, beginning with a mysterious groom appearing with "unearthly horses" in the doctor's abandoned pigpen.
Click here for more details on the screening schedules.